<< Back

Model 60804 Time-Proportioning Controller

The Model 60804 Series I/TP Converter is a unique, current-to-time proportioning (I/TP) converter designed specifically for driving solid state relays (SSR's). This I/TP converter accepts a standard 4-20 mA control (input) signal. The output is a time-proportioned on/off signal with "on time" proportional to the control signal. The I/TP converter is used to drive an SSR (an on/off device by nature) to fully proportion the energy going into a process. This is accomplished by proportioning the SSR's time ON to time OFF within a time period.

The I/TP converter circuitry derives its operating power directly from the 4-20 mA control signal. This unique design is the ultimate in simplicity, reliability, and versatility.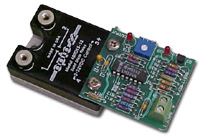 Service Department
Monday-Friday 8:00am-4:00pm CST
Phone: (763) 241-1456
E-mail: service@tmcservices.net